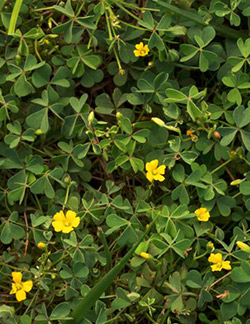 FEATURED WEED
Yellow Woodsorrel
Oxalis stricta
WEED DESCRIPTION
This perennial thrives in dry, open turf sites, and often invades lawns that are stressed from insect, disease or maintenance issues. It is typically recognized by its heart-shaped leaflets that also resemble clover. In the spring and summer, it produces yellow flowers with five petals that flare outward. Leaves fold down at night and open during the day to harvest sunlight.

CONTROL TIPS
Preemergence products, such as Dimension® or Gallery® specialty herbicide, can be used to keep yellow woodsorrel from becoming a problem. Split applications should be made in the spring to ensure complete control. Turflon® Ester Ultra or Confront® specialty herbicides can be used for postemergence control. Weeds such as yellow woodsorrel are perennial broadleaf weeds and are capable of living more than two years. Proper fertilization, mowing and irrigation are necessary to promote healthy, weed-free turf.

FOR MORE INFORMATION: Visit the Weed Watch Digital Edition.