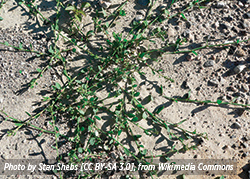 FEATURED WEED
Prostrate Knotweed
Polygonum aviculare
WEED DESCRIPTION
Knotweed is a prostrate summer annual that germinates in early spring and is commonly found in pathways, sports fields and other compacted areas in turfgrass. This weed grows flat along the soil surface and forms circular mats with narrow, linear cotyledons, which are often mistaken for grass. It is typically recognized by its tough, wiry stems that are highly branched and circular mats. Knotweed also has small, inconspicuous white to pinkish flowers that grow in the areas between stems and leaves.

CONTROL TIPS
Prior to germination in the early spring, apply a preemergence herbicide containing isoxaben, such as Gallery® specialty herbicide. Another way to get ahead of it, is to apply Dimension® specialty herbicide in the late fall to control the early germinating knotweed for upcoming spring. To maximize control, maintain a dense, healthy turf that will compete well with knotweed by proper use of fertilizers, having an appropriate mowing height, uniform watering and compacted soil aerification.

FOR MORE INFORMATION: Visit the Weed Watch Digital Edition.