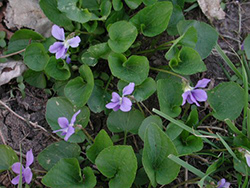 FEATURED WEED
Wild Violet
Viola papilionacea
IDENTIFICATION TIPS
Most wild violets have small pansylike flowers that feature five blue-violet, lilac or sometimes white petals. This weed is typically found in cool, shady, moist and fertile soil throughout northern regions of the U.S. Wild violet has heart-shaped leaves with scalloped edges, which are often cupped toward the petiole to form a funnel shape. It grows in bunches, reaching a height of two to five inches.

CONTROL TIPS
Wild violet is difficult to control because of its aggressive growth and resistance to many herbicides. Apply a postemergence broadleaf herbicide as soon as violets reach the two-leaf stage of growth. The best control is provided by a herbicide containing triclopyr, either alone or in two- and three-way combinations, such as Turflon® Ester Ultra specialty herbicide. Corteva Agriscience™, Agriculture Division of DowDuPont, now has Turflon Ester Ultra available in a one-gallon package with a recommended use rate of 2 pts/A. on tough-to-control weeds, like wild violet.

FOR MORE INFORMATION: Visit the Weed Watch Digital Edition.