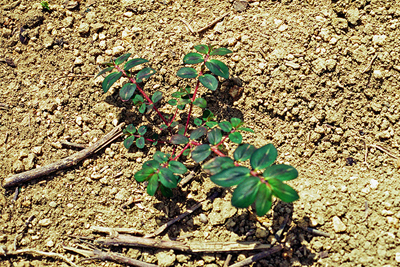 Photo courtesy of John D. Byrd,
Mississippi State University, Bugwood.org
FEATURED WEED
Spotted Spurge
Euphorbia maculate
Identification tips


This summer annual plant spreads low to the ground and is fast growing. Spotted spurge features red- or purple-tinged stems with opposite leaves and emits milky juice when broken. The oblong leaves are smooth or sparsely hairy, from reddish-green to dark green in color — often with a maroon or purple spot in the center. This spurge is often found in disturbed soil, such as in gardens and flower beds, and in thin areas in the turf.



CONTROL TIPS


Apply a broadleaf, preemergence herbicide — such as Crew™ specialty herbicide — containing isoxaben and/or dithiopyr in late spring. If the spurge has germinated, apply a postemergence herbicide containing fluroxypyr, triclopyr or other auxinic herbicide when the plant is small.

FOR MORE INFORMATION: Visit the Weed Watch Digital Edition.